Step 1: User creates a mechanical integrity task, such as Inspections, tests, or preventative maintenance tasks, in PSI Access™ and assigns a responsible user.
Step 2: The responsible user will receive a notification when the task is due and will log in to the mobile app to execute the task.
Step 3: While executing the task, the user can view all Process Safety Information (PSI) for the relevant equipment, take pictures with the mobile device, add comments to the task, as well as create action items.
Step 4: If the task is executed offline, then the data will sync automatically once connected to the internet again.
Execute inspections, testing, preventative maintenance tasks, and create safe work permits all from a mobile device that syncs offline data automatically.
Available for Apple and Android iOS compatible devices
Available for online and offline use
Syncs offline data automatically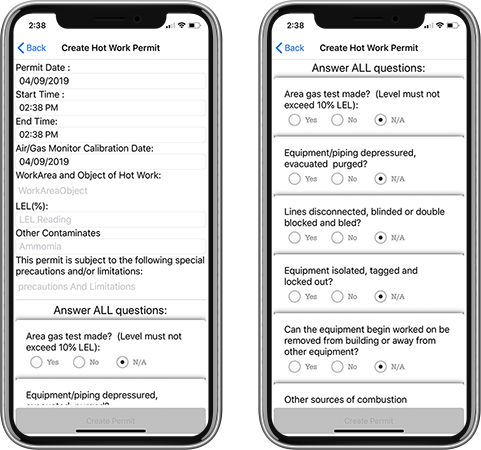 Benefits
Mechanical Integrity is an element of PSM that is critical to prolonging life of the process and preventing hazardous releases or spills. The mobile app is designed to track all maintenance tasks as well as decrease the amount of time it takes to document all portions involved with maintenance.